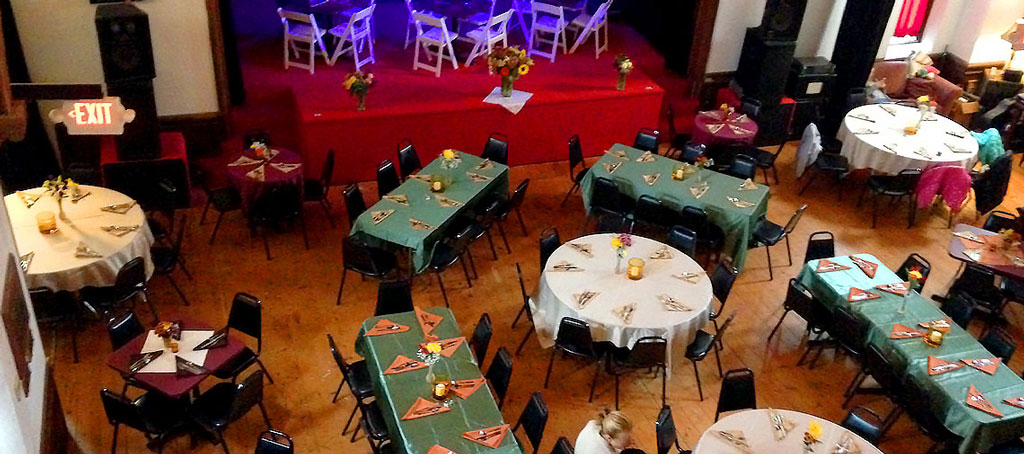 A brief description of programs and when they happen.
Community Lunch: Free lunch served every Wednesday 12PM -1PM. Open to all!

Exhibits: TGC debuted its first exhibit in the lobby of the old Trinity church. "45 Years with Arlo–Terry A La Berry" opened May 2021. An engaging display of some of drummer Terry Hall's photos and memorabilia spanning the many decades he has worked with Arlo. More exhibits to come!

Historical and Cultural Preservation: TGC has undertaken the housing and preservation of the Arlo and Jackie Guthrie Family Archives, an extensive collection of the entire Guthrie family spanning four generations. The Center is also assisting in the conservation of other legacy archives.

HD Walk: The Center's most enduring fundraiser was sparked by a question from a visitor. Over twenty years ago, a woman living with Huntington's Disease, the same condition that challenged Woody Guthrie, wondered why there was no pledge walk for HD.

Every May since, people from all over the US walk the 6-mile route of "The Garbage Trail," connecting the key sites in Arlo Guthrie's "Alice's Restaurant Massacree" saga.

Funds are raised to support charities committed to the care of those living with Huntington's Disease.

Thanksgiving Dinner is served for free at the Guthrie Center on Thanksgiving Day. All are welcome, reservations are appreciated.
---
Latest Video